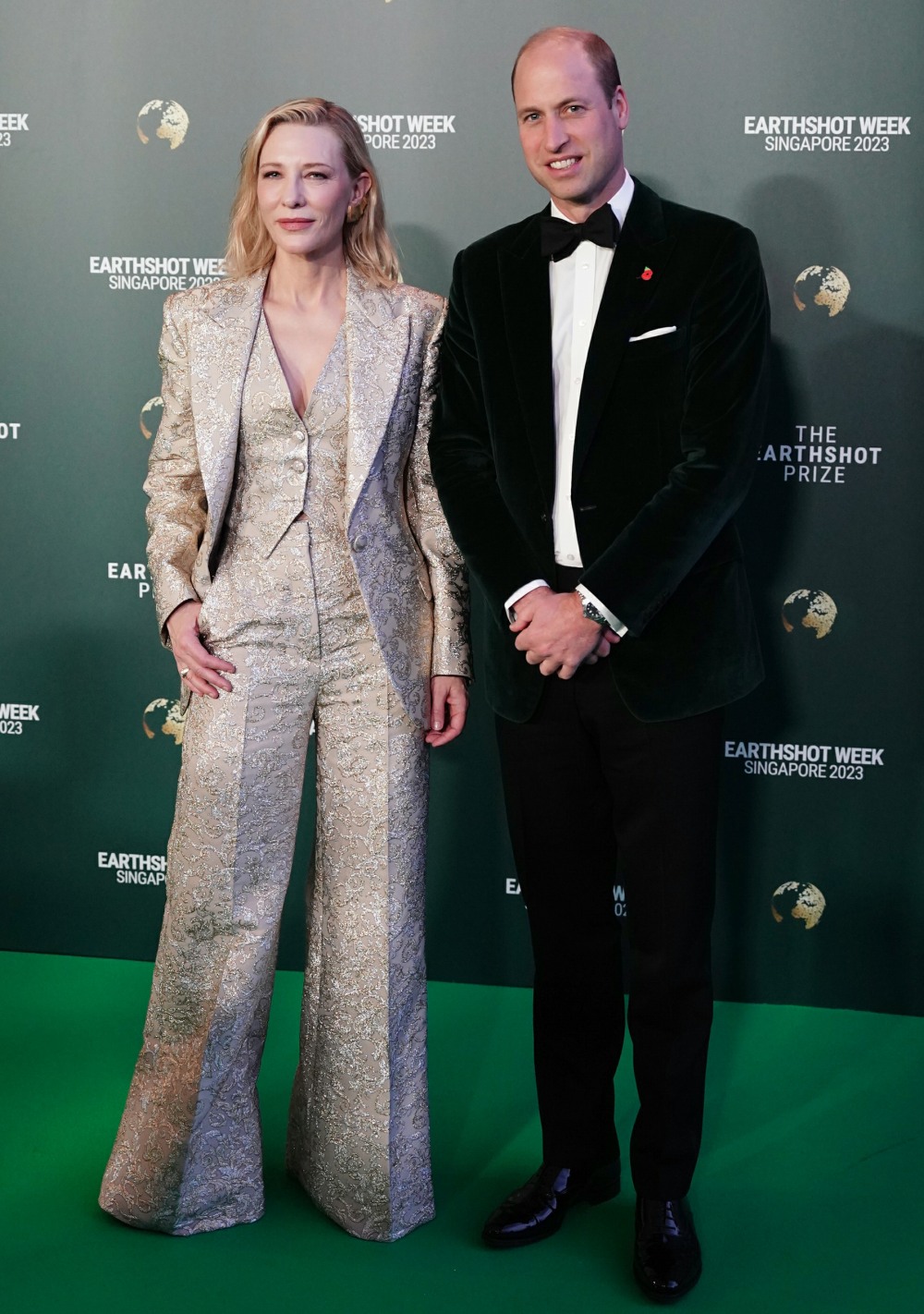 I remember when, months after Prince William married Kate, they went to California and attended some red carpet event. Americans were surprised that Will and Kate didn't actually stand and pose for photos on the carpet – instead, they walked at a snail's pace through the carpet so that all of the photos were "in motion," because only gauche peasants actually pose for photos. Will and Kate generally still follow that "rule" of never wanting to look like they're posing when they go to the BAFTAs or a premiere, although they have started standing still and posing at Earthshot Prize red carpets. All of which to say, the Telegraph biddies are clutching their pearls over the fact that the Duchess of Sussex posed on the carpet at Variety's Power of Women event on Thursday.
Blink and you might have missed it. The slightly twisted torso, the glance just beyond the shoulder, the pause, and that smile. This was the Duchess of Sussex on the red carpet at Variety's Power of Women event in Los Angeles on Thursday evening. She attended solo, posing for the bank of photographers at the step-and-repeat (an industry term for the part of the red carpet where celebrities pose for photographers in front of host and sponsor logos).

This moment speaks volumes about the differences between Meghan's life today, and the life she left behind as a working royal; taking the time to ensure that the photographers get a variety of angles which show both the woman and the dress (a taupe, off-the-shoulder design by New York-based label Proenza Schouler) in the best possible way.

For a royal to do the same would come off as a little inappropriate. They wear beautiful clothes too, of course, and attend red carpet events we've seen the Princess of Wales at the Baftas, last year's Earthshot Prize Awards and the Top Gun: Maverick premiere – but royals don't behave like other famous people, says etiquette expert Myka Meier. Even on the red carpet, "[royals] are always slightly on the move," she says. "Sometimes at the more glamorous events, they know what they're there for – to promote it. So I do see them stop and give that time. But it's rare. It's usually in passing, a stop, nod, a wave and off they go."

In taking her time on the step-and-repeat, Meghan showed us that she no longer sees herself as royal. "This was a full-on red carpet [moment]. Meghan's re-debut, if you will," says Meier. "I think she looks confident; I think she looks really happy. She looks like she wants to be there. And the over-the-shoulder pose was a major differentiator from her royal pose days. She's back to her celebrity red-carpet days."

"When you're a working royal, there's a level of modesty," Meier explains. "They're representing a brand, and [Meghan] had to stay on brand; even if she wanted to wear red lipstick and red nails, and do 10 over-the-shoulders, she couldn't. Now she has freedom and flexibility to be more playful on the red carpet."

Meier says this turn on the red carpet appeared to be second nature to Meghan: "I think she felt right at home [on the Variety red carpet]. She's in her comfort zone – and when we look back, we can see how hard she must have been trying to maintain [respect to the monarchy] and follow the rules. In Hollywood, on the red carpet, there are very few rules. And I think we're going to start seeing more and more of Meghan than ever before."
"When you're a working royal, there's a level of modesty" – Kate spent her first five years as a duchess flashing everyone on multiple continents, but sure. The "no posing" thing is supposed to be the Windsors differentiating themselves from mere celebrities, when really, it's a distinction without a difference. If anything, the Windsors look awkward as hell on red carpets while Meghan looks natural and effervescent no matter what she does. Besides, the royals will happily go commercial when it suits them – Harry and William always posed in front of Land Rover promo for their polo matches. Kate will happily gawp in front of whatever you've got.
Photos courtesy of Getty, Backgrid, Cover Images, Variety's IG.