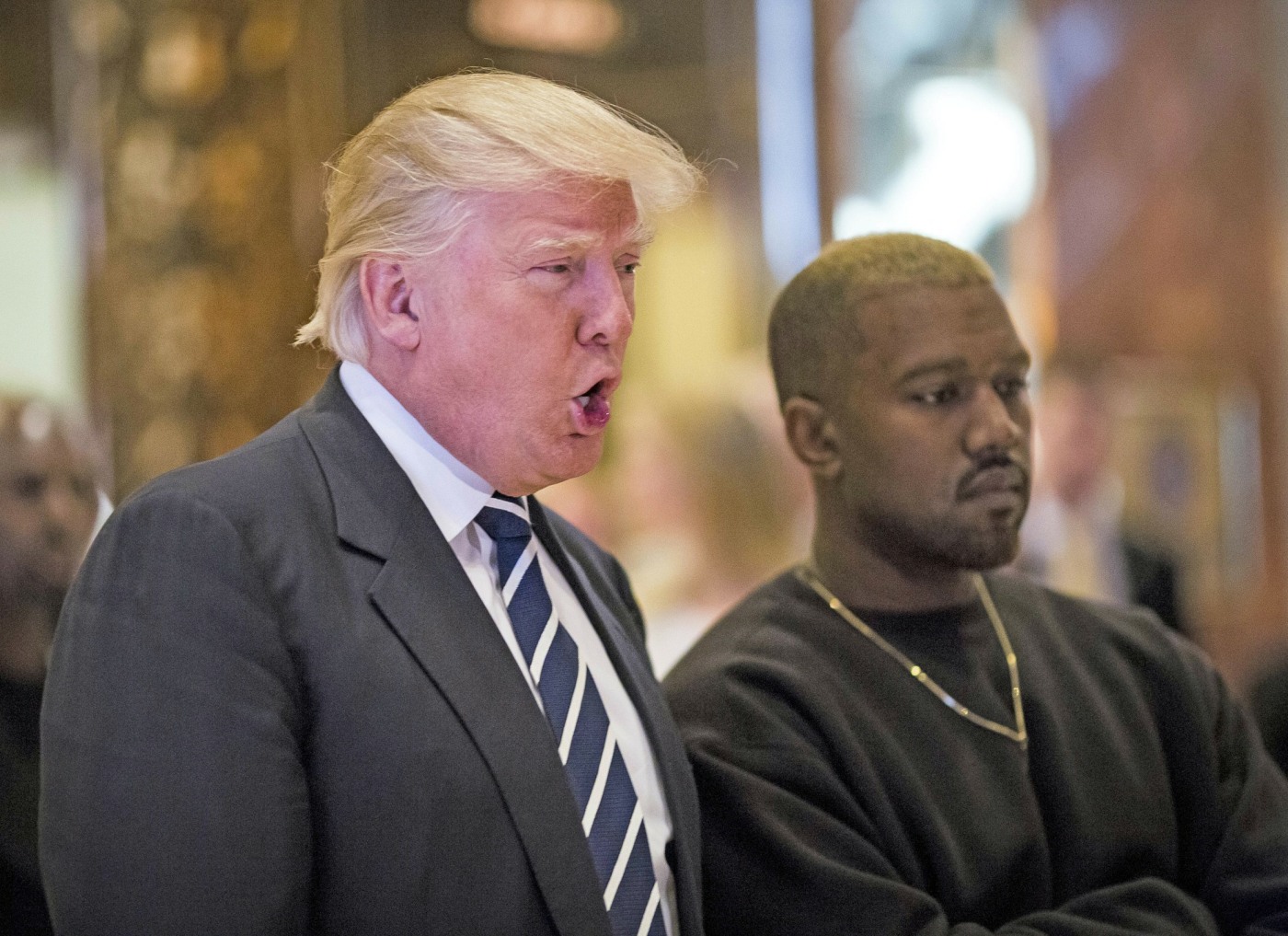 In 2013, Kanye West did a rather uncomfortable interview with the BBC. The interview went viral for all of the crazy stuff Yeezy said, and Jimmy Kimmel did a "spoof" of it, where he had children read from the exact transcript of the interview. Kanye got SO MAD. That was the moment when Kanye went on a caps-lock rant about Kimmel being unfunny and #NoDisrespectToBenAffleck became a thing. A few weeks later, Kanye and Jimmy made up when Kanye appeared on Jimmy Kimmel Live. Well, I say "made up," but you could tell that Kanye still felt like Kimmel wronged him and all of that. I wouldn't say that Kanye and Jimmy have been feuding ever since, but there's been ~tension~.
Well, Kanye agreed to sit down with Kimmel again. Kimmel has been promoting the interview constantly, just hyping the hell out of it. Here's the full interview.
Around the 2:30-minute mark, they talk about Kim's visit to the Oval Office, and Kimmel asks Ye if he was concerned about Kim being alone with Donald Trump. Kanye laughs and says, "Well, he is a player." Er… Trump has been accused of sexually harassing and assaulting dozens of women. That doesn't make him a player, it makes him an abuser and a misogynist. After that, Kimmel just dives in and asks Kanye about his Trump-love (around the 3:40-mark) and Kanye went on and on about how people were trying to tell him how to think and who to vote for:
"Just as a musician, African American, everyone around me tried to pick my candidate for me. And then told me every time I said liked Trump that I couldn't say it out loud or my career would be over," West said. "I'd get kicked out of the black community because blacks, we are supposed to have a monolithic thought, we can only be Democrats and all." He added that as a result of his hospitalization in 2016 he "lost his confidence" and it took him a year and a half to say what he truly felt. "If I'm afraid to be me, then I'm not Ye, that's what makes me Ye. I enjoy when people are mad at me about certain things… It represented overcoming fear and doing what you felt, no matter what anyone said…Liberals can't bully me; news can't bully me; the hip-hop community, they can't bully me. Because at that point, if I'm afraid to be me, I'm no longer Ye. That's what makes Ye. And I actually quite enjoy when people actually are mad at me about certain things."
[From The Washington Post and THR]
He goes on and on about how there's not a class that teaches you how to balance a checkbook (YES THERE IS) and there's isn't a class about the future (JADEN SMITH DID IT FIRST) and something about Galileo and how we need to "advance as a race of beings." I can't.
Anyway, just skip along to the 10-minute mark, because that's when Kanye starts talking about how we should not "hate" Donald Trump, we should try loving him. Kimmel challenges him on that, by reminding Kanye that Trump is literally tearing families apart at the border. Kimmel then challenged Kanye to remember what he said at the Hurricane Katrina telethon in 2005, when Kanye said "George Bush doesn't care about black people." Kimmel asked Kanye if thinks Donald Trump would care about black people. Kanye sits there silently, in thought, and then Kimmel breaks for a commercial. And that's where I stopped watching.
Photos courtesy of Backgrid.