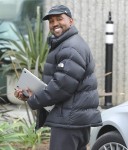 Smiling on the inside
A post shared by Kim Kardashian West (@kimkardashian) on Jul 31, 2018 at 9:25pm PDT
True or false: if Donda West was still alive, would Kanye Kardashian be a thing? Would Donda have shut down Kanye's whole Kardashian fascination? Would Kanye have "needed" the warm embrace of the Kardashian-Jenner family? I don't know. We'll never know. What I do know is that Kanye has always seemed genuinely close to Kim's family. He seems to adore Khloe in particular, and Kris Jenner is basically his surrogate mother. He loves that his kids are growing up around their cousins too, and I think he's particularly close to Kourtney's kids. And all this time, he's been thinking about how much he wants to sleep with all of his sisters-in-law. Ugh.
Kanye West has surprised fans with a new song — and it contains a surprising lyric about Kourtney and Khloé Kardashian as well as Kendall and Kylie Jenner. Early Saturday morning, the rapper, 41, released "XTCY" with DJ Clark Kent tweeting a link to the track which West retweeted soon after.
"You got sick thoughts? I got more of 'em/ You got a sister-in-law you would smash? I got four of them," the husband of Kim Kardashian raps in the first verse.
The cover art for West's latest single, revealed via download, is a photo of his wife with her four sisters at Kylie's 21st birthday bash, which the father of three also attended at Delilah, a restaurant-lounge in Los Angeles on Thursday night ahead of the Kylie Cosmetics mogul's birthday at midnight on Friday.
The premiere of "XTCY" follows the June 1 release of West's album YE, his first full-length project since 2016's The Life of Pablo.
[From People]
Gross. I can't. I don't want to think about this too hard, okay? Because it will be a downward spiral. I'll just say that Kanye should know by now that not everything needs to be shared in his music. All this time, I thought Kanye just saw his sisters-in-law as his actual sisters. Not so much.
Sitting in the studio with my man @kanyewest and he said.. "Clark, let that new "XTCY"joint go!!! So.. ENJOY: NEW KANYE WEST.. https://t.co/n2LfhUvMxR
— DJ CLARK KENT (@DJClarkKent) August 11, 2018
It's our 21st birthday
A post shared by Khloé (@khloekardashian) on Aug 9, 2018 at 11:09pm PDT
Photos courtesy of Backgrid, Instagram.