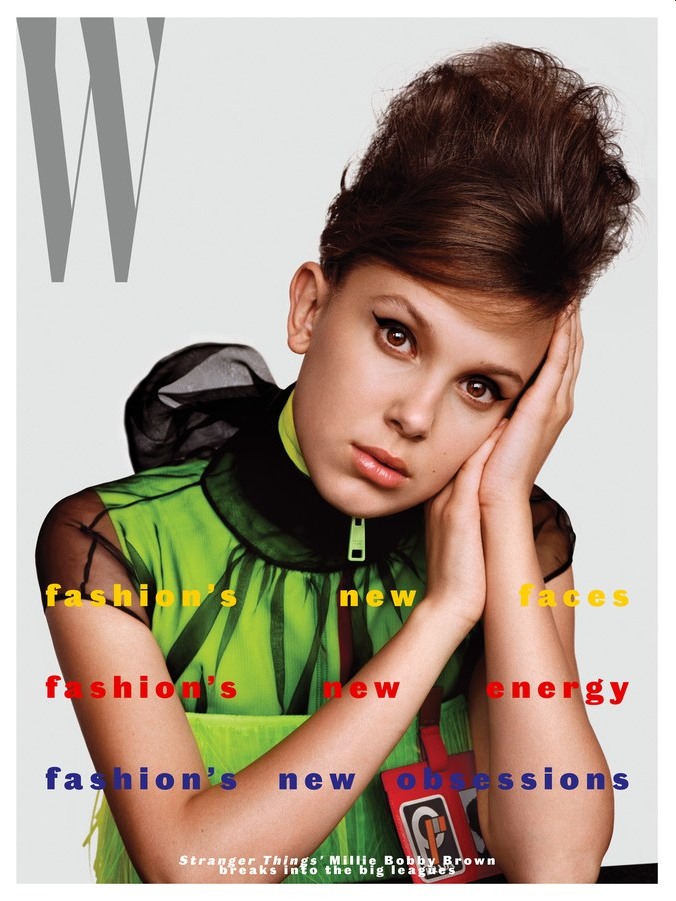 Millie Bobby Brown is 14 years old and on the cover of the latest issue of W Magazine to promote her starring role in Godzilla: King of the Monsters. I've felt for some time now that Millie – who seems like a lovely young girl – is being overworked and overexposed by her stage parents. I hope that's not the case, and I hope that she's being given the freedom to just be a kid and make mistakes and all of that. But I get the impression from this interview (and from the past two years) that she's been forced to grow up very quickly. I just feel bad for her. You can read the full W Mag piece here – she's more professional during this interview than actors three times her age. Some highlights:
She's friends with Drake: When she met Drake in Australia last November, where both of them were on tour (she was promoting the series; he was performing), the musician draped an arm around her shoulder for a picture that went viral. "He invited me to his concert," Brown explained matter-of-factly. "And now we talk all the time. I ask his advice."
On her activism: "I take my responsibilities seriously. I recognize that I have a voice, and I want to use it wisely."
She didn't know what to expect from Stranger Things: "We did the show, and I went back home to England. I thought, Okay, it's a little show. What's next? And then we came to America for the premiere. Three days later, my whole life changed. People went crazy! My followers went up to 1 million in one day. Magazines wanted me. One of my goals was to be on the cover of W, and you see? Dreams do come true."
Acting against a CGI Godzilla: "Godzilla was a tennis ball! I was always looking up. My neck hurt a lot, and I had to get dry needling. They stuck a really big, but thin, needle in my neck. Your muscle then spasms, and, eventually, you're fine. After the dry needling, I had a great rapport with the tennis ball.
What she loves most about living in America full-time: "I love red Jolly Rancher candy. Cherry. They're very sour. I'm not allowed to eat them anymore, because they color my tongue. Eleven is odd enough without having a red tongue.
Shaving her head to play Eleven: "The shaved head was a big deal. On the one hand, it was cool. When you're bald, rain feels like a head massage. I'd walk in the rain, and people would look at me like I was crazy. I'd be smiling—so, so happy to have the water hit my naked head. But on the other hand, people stared at me, wondering whether I was sick. Some would even laugh at me, without knowing whether I was or wasn't sick. It was hurtful, but their attitude taught me something about compassion. In the end, being bald was the best thing I ever did—being different changed my life. I wanted to embrace my baldness and, hopefully, inspire people. And, now, that's become my message to the world."
[From W Magazine]
Um, Millie Bobby Brown, 14, is regularly in contact with Drake, 31? No no no. I understand that their relationship is probably just friendship, or that he's big-brother vibing. But still, I don't like it. And the dry needling stuff is horrifying! Whenever I think about MBB, I always feel like screaming "LEAVE MILLIE ALONE!" Just let her be a kid! How hard is that??
Embed from Getty Images
Embed from Getty Images
Photos courtesy of Getty, cover courtesy of W Magazine.